Online Music Production School
ONLINE MUSIC PRODUCTION SCHOOL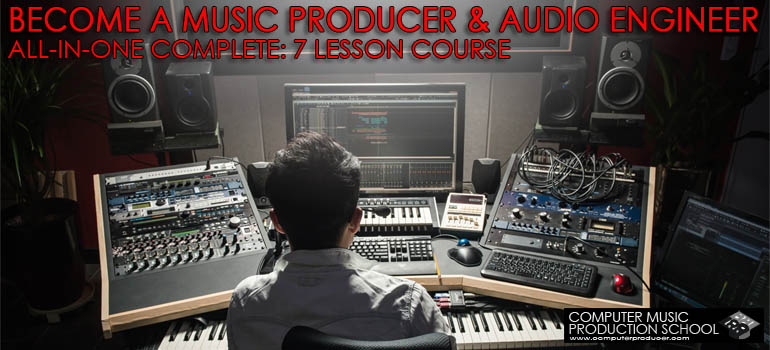 Become a Music Producer & Audio Engineer 7 Lesson Course: $2,500
-Duration: 7 Weeks, 7 Months, 12 Months, 24 Months or as long as you need to Complete.
-Benefits: Learn the role of the artist, songwriter, producer, beat maker, recording, mix, mastering engineer and develop your music business plan.
-$2,500
-PC & MAC, Student Advisor Included-This Course covers everything you need to know about starting your own studio, purchasing additional gear if needed, unlocking music production, engineering, mixing and mastering.
-Course Results: You'll learn the mindset of the artist, the producer, the engineer, the mixing engineer and the mastering engineer. At the end of this program you'll be able to work out of any studio, figure out any gear, write, record, produce, mix and master your own material within a couple hours.
-Pricing: $2,500
-Duration: 7 Weeks, 7, 12 or 24 Months
-PC & MAC, Hardware & Software
-Student Adviser Included
–Listen to the Results
–Student Testimonials
–7 Lesson Course Overview
–7 Lesson Course Syllabus
–Payment Plan Options
–Financial Aid
–Get a Free Training Consultation
–Speak with a Student Adviser
Enroll Now | 'Monthly' Payment Plan
Enroll Now | 'Pay as you Go' Payment Plan
Platinum Bonus Package (Over $2,000): 
-10GB of GotchaNoddin.com Sample Libraries unavailable for sale on their website.
-Sell your music productions & beats at GotchaNoddin.com 
-Potential job placement with our music business partners. 
-Five additional lessons including: attracting more clients, guerilla music marketing,
branding yourself online, booking your gigs, unforgettable business cards
-Unlimited student advisor support for the rest of your life
Listen to the Results of the
Computer Music Production School